Tuckpointing Melbourne by Pro Tuck Brickwork Restorations
ProTuck Brickwork Restorations are the Genuine leaders in Tuckpointing and Repointing restorations in Melbourne, Victoria. With our specialist knowledge and experience we provide a service for all kinds of masonry repairs and brickwork restoration to period heritage facade homes in Melbourne. We specialise in Tuckpointing, Repointing, chimney repair, crack repair, mortar repair, mortar restoration and brick repairs Melbourne. ProTuck Brickwork Restorations has successfully evolved to be the Benchmark in the industry over a significant amount of years, due to strong management and direction by a certified masonry artisan.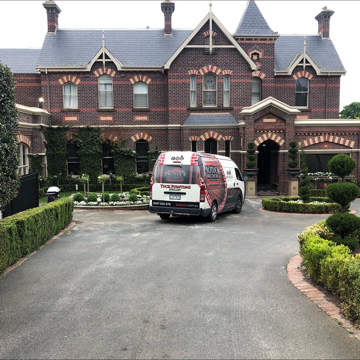 ProTuck Brickwork Restorations are second to none when it comes to quality workmanship.  ProTuck Brickwork Restorations has completed hundreds of period style architectural homes including Californian Bungalows, Federation, Art Nouveau, Queen Anne and Victorian.
ProTuck Brickwork Restorations utilises traditional and modern materials with an efficient and clean system. If you are looking for the highest quality finish, ProTuck Brickwork Restorations will deliver. ProTuck Brickwork Restorations promises that with our service, we will restore  a new sense of life back into your brickwork, and be amazed with the Results. As well as increasing its value up to approximately 7 times the outlay of the initial Tuckpointing costs according to the estimations  of local  Melbourne CBD Real Estate Agents.
Please check out our Tuckpointing & Repointing Photo Gallery and call Callahan Kyatt on 0407 522 476. We can organise a fully detailed FREE quote.
All Images Copyright @ www.protuck.com.au. No Unauthorised Use Allowed
Read More
ProTuck Brickwork Restorations: Synonymous to Excellence in Repointing And Brick Restoration in Melbourne
We have extensive experience dealing with a wide range of brick repairs, tuckpointing, and repointing. Our well-trained team can help with brick repair and restoration of vintage and modern properties, as well as conservation and listed building work. ProTuck Brickwork Restorations provide a wide range of services to cater to many types of brick repair work, whether you have a commercial or residential building.
Experts of TuckPointing Brickwork in Melbourne
When it comes to tuckpointing in Melbourne, we can meet the highest industry requirements. We have the competence and pay close attention to the smallest detail, irrespective of the scale of the work. Indeed, our outstanding craftsmanship ensures that the value of your property rises.
How Do Our Solutions of Brick Tuckworking in Melbourne Help?
Restores the brickwork to its original state with a superior finish and aesthetics.
Revitalises the building's structural integrity.
Assist in keeping the structure safe from further deterioration.
Boost the overall appeal and value of the building.
Our tuckpointing solutions act as a defence mechanism for the structure against moisture.
With our tuckpointing solutions, we will provide some stability to your masonry wall or building by replacing those old damaged joints with fresh mortar. Furthermore, this will act as solid preventative maintenance.
ProTuck Brickwork Restorations works with the motto of providing a hundred per cent value for money to the clients. Furthermore, our team is well-aware of all the relevant rules and regulations pertaining to brick repair and mortar restoration in Melbourne for different kinds of buildings. Thus, all the work that we do is in strict compliance with the local norms.
Heritage, Facade, Waterproofing – All Kinds of Repair And Restoration Under One Roof
We can restore any style of the heritage building to its previous splendour. Our highly skilled craftsmen utilise only the best materials and procedures to ensure that the heritage building is properly repaired and can withstand the diverse weather conditions for many years to come.
ProTuck Brickwork Restorations understand the usual challenges that brick-and-mortar structures of heritage buildings face. Also, we can provide supplementary restoration and repair solutions such as waterproofing and concrete repair. Our services vary from basic tuckpointing and repointing to extensive restoration work.
Facade cracks and erosion are frequently the starting point of greater structural issues. We are professionals at repairing any type of building facade problem. Our team works in collaboration with our clients to restore buildings and bring back their stunning exteriors. Crack repairs, brickwork repairs, repointing, waterproofing, painting, and rendering are just a few of our services. We have extensive experience upgrading building facades on the following types of structures – commercial, residential and retail.
Time To Increase The Value of Your Property With The Best Solution For Tuckpointing in Melbourne
ProTuck Brickwork Restorations aims to provide brickwork repair and tuckpointing solutions that straight away increase the value of the building while also repairing its damaged parts. Our team starts the work by thoroughly assessing the damage and its root cause. We then find out the most optimal solution aligning with the structural strength, design and construction material of the building.
What our clients say
Joe LoCastro
We engaged Cal for our tuckpointing works at our heritage house in Carlton. He did an excellent job and we continually get compliments the way the house looks now I highly recommend Cal for any tuckpointing works.
Grant Beaufort
My wife and I engaged the services of Protuck Brickwork Restorations to tuckpoint our family home in Camberwell, as they were highly recommended to us by a nearby neighbour. Cal and his team have transformed our old dwelling into something I had never envisaged possible, a truly remarkable result and finish. The quality and integrity of their work is beyond what I was expecting, and I would not hesitate to recommend them to anyone who is considering having such restorations carried out. Also noteworthy was the consideration shown in working in with other tradespeople, in what I would consider to have been a difficult and tedious renovation. Grant Beaufort
Chris Bell
We had Cal tuck point two Victorians in South Yarra for us. The boys did a great job and we would highly recommend them to anyone looking for a good tuck pointer. Everyone who passes our houses comments on how good they look. Thanks for the attention to detail Cal.
Amer Imamovic
We chose Cal and the boys over the other guys and did we make the right decision. His price was on point and his experience and customer service is second to none. Highly recommend!!!
Keith
Cal was amazing in every way. I never imagined that I could have the brickwork restored to it's former glory, due to the brick's condition. Not only did Cal restore them beyond my expectations, he did it before time, he cleaned up after him and took the waste away, but he was also much cheaper than the other quotes that I recieved. I have no hesitation in recommending Cal.