ProTuck Brickwork Restorations
ProTuck Brickwork Restorations are the Genuine leaders in Tuckpointing and Repointing restorations in Melbourne, Victoria. With our specialist knowledge and experience we provide a service for all kinds of masonry repairs and brickwork restoration to period heritage facade homes in Melbourne. We specialise in Tuckpointing, Repointing, chimney repair, crack repair, mortar repair, mortar restoration and brick repair. ProTuck Brickwork Restorations has successfully evolved to be the Benchmark in the industry over a significant amount of years, due to strong management and direction by a certified masonry artisan.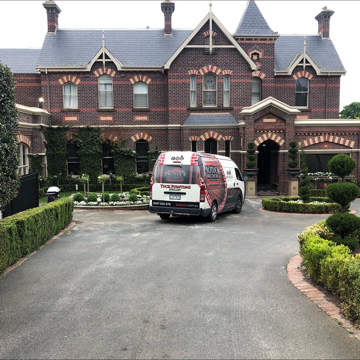 ProTuck Brickwork Restorations are second to none when it comes to quality workmanship.  ProTuck Brickwork Restorations has completed hundreds of period style architectural homes including Californian Bungalows, Federation, Art Nouveau, Queen Anne and Victorian.
ProTuck Brickwork Restorations utilises traditional and modern materials with an efficient and clean system. If you are looking for the highest quality finish, ProTuck Brickwork Restorations will deliver. ProTuck Brickwork Restorations promises that with our service, we will restore  a new sense of life back into your brickwork, and be amazed with the Results. As well as increasing its value up to approximately 7 times the outlay of the initial Tuckpointing costs according to the estimations  of local  Melbourne CBD Real Estate Agents.
Please check out our Tuckpointing & Repointing Photo Gallery and call Callahan Kyatt on 0407 522 476. We can organise a fully detailed FREE quote.
All Images Copyright @ www.protuck.com.au. No Unauthorised Use Allowed